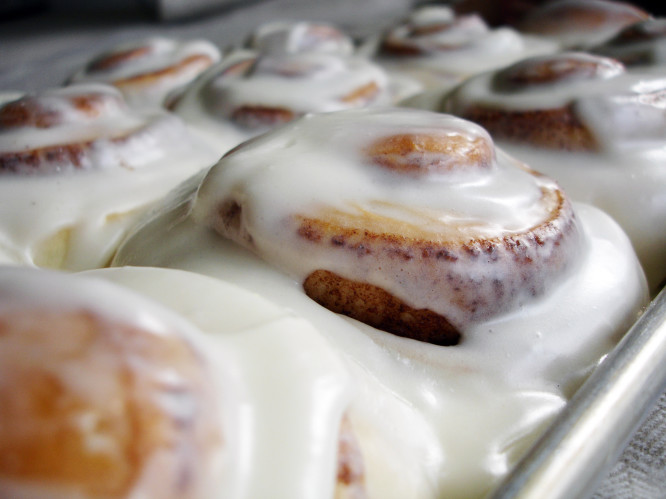 I love homemade cinnamon rolls, especially my mom's cinnamon rolls.  She is famous in our small town for her fabulous recipe and is known to drop a pan or two by whenever someone is experiencing loss or illness.  Wouldn't that brighten anyone up?
Now that I don't live at home, I have to make these for myself.  They bring back memories of fall and my mom's fragrant smelling house.  I love how simple the dough is and how fabulous they turn out.  I think the key to their tenderness is in rising time.  Be sure to let them rise nice and big before baking.  You'll be sure to have a light gooey sweet roll.
Mom's Cinnamon Rolls
INGREDIENTS
DOUGH
1 c warm water
1 1/2 T yeast
1 T white sugar
1 c milk
1 egg
1/2 c vegetable oil
3/4 c white sugar
1 T salt
6 c flour
FILLING
1 c white sugar
1 T cinnamon
1/4 c butter, melted
FROSTING
4 oz. cream cheese, softened
1/4 c butter, room temperature
1/2 t vanilla
3-4 c powdered sugar
1-2 T milk
DIRECTIONS
In a small bowl combine warm water, yeast, and sugar. Allow to sit for 5-10 minutes, or until foamy.
In a large bowl combine milk, egg, vegetable oil, sugar, and 3 cups of flour. Add yeast mixture. Add the salt and the remaining flour. Dough should be soft, but not sticky. Knead for 5 minutes.
For the filling combine the sugar and cinnamon. Roll dough out to an 11×13 inch rectangle. Dough should be about 1/4 inch to 1/2 inch thick. Spread melted butter on rolled out dough and sprinkle cinnamon sugar mixture evenly on top. Starting with the long side, roll dough up.
Preheat oven to 400 degree, and grease an 11×13 inch pan. Using a piece of string or floss, cut the roll into 1 inch slices. Place rolls in baking sheet 1 inch apart. Allow to rise till double in size. Bake for 12-15 minutes, or until nicely browned on top.
With a mixer, combine cream cheese, butter, vanilla, and powdered sugar. Add milk one tablespoon at a time. Spread on warm rolls.