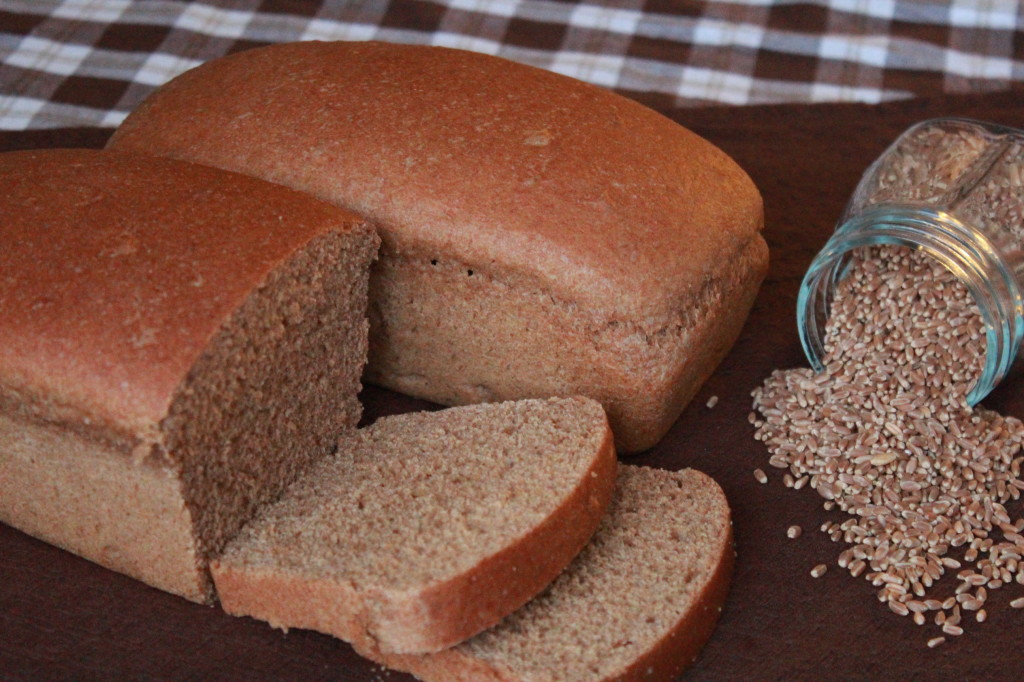 I grew up with an amazing mother who made all our bread.  I think she realized that making bread rather than buying bread for a family of seven was much more affordable and delicious.  My mother is actually quite famous in her small town for her delicious white bread.  As a kid, I loved coming home from school and smelling that fresh baked bread aroma.  My mom would always serve us up a warm slice lathered in butter – comfort food at it's finest.
I knew that I wanted to carry on the tradition of homemade bread for my family, and while I can't say I've never bought a loaf or two of bread from the store, the majority of the bread we eat comes for my kitchen.  While I do make my mom's white bread often, I try to keep my family on the whole grain variety.
I can't tell you how many whole wheat bread recipes I have tried through the years.  There have been many that I have found and loved, but I keep coming back to this one given to me by a friend several years ago.  It comes together fairly quickly for a yeast bread, requiring only one rise time, and bakes up beautifully.  It has a soft, chewy texture and holds up well enough to slice up for sandwiches.  The recipe makes five 4×8 inch loaves.  I usually freeze three or four of the loaves, and I'm always delightfully surprised at how well the thawed loaves hold up.
Honey Whole Wheat Bread
INGREDIENTS
5 1/2 c hot water
2/3 c honey
2 T yeast
2 T dry milk powder
2/3 c oil
2 T gluten
2 T salt
13-14 c whole wheat flour (I use freshly ground hard red wheat)
DIRECTIONS
Generously coat five 4×8 inch pans with non-stick cooking spray. In an extra large mixing bowl combine the hot water, honey, yeast, dry milk, oil, and gluten. Mix well and allow to sit for 5 minutes. The mixture should begin to foam during this time.
Add 7c of whole wheat flour and the salt to your water mixture and mix well.
Continue to add remaining flour until you have a firm dough. You may not need all the flour. The dough should be sticky to the touch but firm enough to be rolled into a small ball in the palms of your hands. Knead dough for 5 minutes in a mixer, or 10 minutes by hand.
Form dough into 5 equal sized loaves. Allow the dough to rise in pans until the loaves have doubled in size. Preheat oven to 400. When the bread has fully risen, bake it in the oven for 5 minutes at 400, then decrease the oven temperature to 325 and bake for an additional 20-25 minutes. Remove the loaves from the oven when the bread is nice and browned on top. Let the bread rest in the pans for 5 minutes then remove from pans and allow to cool completely on a cooling rack. Store bread in large twist tie plastic bags at room temperature or in your freezer.