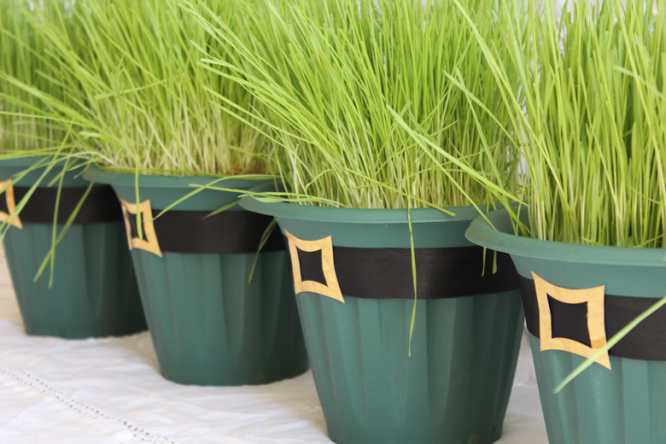 Just look at this fresh green color! I just love it! It makes me so excited for spring! I put 25 of these centerpieces together for a St. Patrick's themed church party. I was asked to be over the decorations, and I didn't have much of a budget to work with. The idea of wheat grass centerpieces came to mind, and I knew it was just the idea I was looking for. For one, wheat grass is super cheap to grow especially if you happen to have bulk wheat berries on hand (which I always do to make this bread!). Secondly, it doesn't take much time – a week and half, two weeks maximum. AND, the grass is so bright and fresh looking – just the color pop I wanted!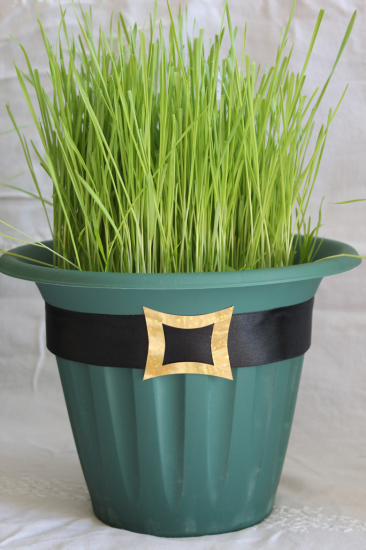 I found the planter pots at the Dollar Tree. I was so excited they were green and resembled leprechaun hats! To plant the wheat grass, I basically followed these directions. The grass grew so fast! My kids and I had a LOT of fun watching it grow from day to day.
To finish the centerpieces off, I hot glued black ribbon around the brim of the hat and added a gold paper buckle. I am so pleased with how they turned out. It may be too late to grow wheat grass for St. Patty's Day, but wouldn't these be cute with a colorful polka dot ribbon for Easter with maybe some eggs peeking out the top? Oh, the possibilities! You really should try growing your own sometime. It's quite fun!