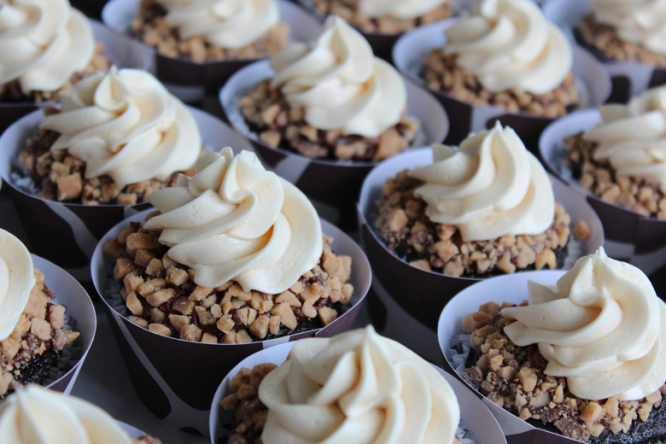 I love cupcakes, AND I make a lot of them. There are so many good ones to choose from, but if you asked me today what my absolute favorite one is, it would most definitely be these toffee crunch cupcakes. They are simply divine! They may require a bit more prep than your regular vanilla cupcake with buttercream (which definitely has a rightful place in the cupcake world), but these chocolate cupcakes with ganache, toffee and caramel frosting are totally worth the extra effort!
About a month ago I was asked to donate 60 cupcakes of my choice for a fundraising event. In choosing which cupcakes to make, I decided I would make 30 of my husband's favorite, vanilla cupcakes with raspberry cream cheese frosting, and 30 of my favorite, these toffee crunch cupcakes. While I can attest that the vanilla and raspberry cream cheese cupcakes are most scrumptious, it was reported that the toffee cupcakes were cleaned out first. If you ask me, they are pretty impressive little cups of cake!
Toffee Crunch Cupcakes
INGREDIENTS
CUPCAKES
2 c white sugar
1 3/4 c all-purpose flour
3/4 c cocoa
1 1/2 t baking soda
1 1/2 t baking powder
1 t salt
2 eggs
1 c milk
1/2 c vegetable oil
2 t vanilla
1 c brewed coffee (I use brewed Pero)
GANACHE AND TOFFEE
12 ounces semisweet chocolate, chopped
1 1/2 c heavy cream
3 T butter
2 packages (8 ounces each) toffee bits
FROSTING
1 1/2 cups granulated sugar
1/4 c all-purpose flour
3 T cornstarch
1/4 t salt
1 1/2 c milk
2 t pure vanilla extract
24 T butter, cut into 24 pieces and softened at room temperature
1/3 caramel sauce (store-bought or homemade)
DIRECTIONS
CUPCAKES: Preheat oven to 350. In a large bowl whisk together the sugar, flour, cocoa, baking soda, baking powder, and salt. In a separate bowl combine the eggs, milk, vegetable oil, and vanilla. Add the liquid ingredients to the dry ingredients and beat with electric beaters on medium speed for 3 minutes. Stir in the hot coffee or Pero by hand. The batter will seem extremely runny, but don't worry! Fill cupcake liners about 2/3 full. Bake for 18-20 minutes or until a toothpick inserted in the center comes out with moist crumbs. Makes about 30 cupcakes.
FROSTING: In a medium sized saucepan combine the sugar, flour, cornstarch, and salt. Whisk in the milk until the mixture is smooth. Cook the mixture over medium heat until it boils and becomes thick, a bit thicker than pudding consistency. Remove the pan from the heat, and allow the mixture to cool until room temperature (this is very important!). Once the mixture is cooled to room temperature, beat in the vanilla on low speed until it is well combined. Add the butter, one piece at a time, and beat the frosting until all the butter is fully incorporated. Increase the speed on your mixer to medium-high, and beat until the frosting is light and fluffy. Gently fold in the caramel sauce. If your frosting is a bit runny, allow it to sit at room temperature to firm up a bit.
GANACHE: In a small saucepan, heat the cream on the stovetop until it barely begins to simmer. Remove from the heat and add the chocolate. Allow the chocolate to sit in the warm cream for a minute or two, and then stir until the mixture is silky and smooth. Add the butter and stir until smooth. Chill the ganache in the refrigerator until it is a piping consistency. Stirring it every 5 minutes or so helps it cool evenly, and if it gets to hard, let it come to room temperature until it softens again.
ASSEMBLY: Pour the toffee bits into a bowl. Use a piping bag with a large round circle tip to pipe the ganache in a ring around the edge of the cupcake. Dip the piped ganache into the toffee bits. Fill another piping bag with a large decorative tip (I used a large star tip here, but I've used round or a french tip as well), and pipe a swirl of frosting in the center of the cupcake.
Recipe Source: Originally seen from Baker's Royale, cupcakes slightly adapted from allrecipes.com, and frosting and ganache from melskitchencafe.com.