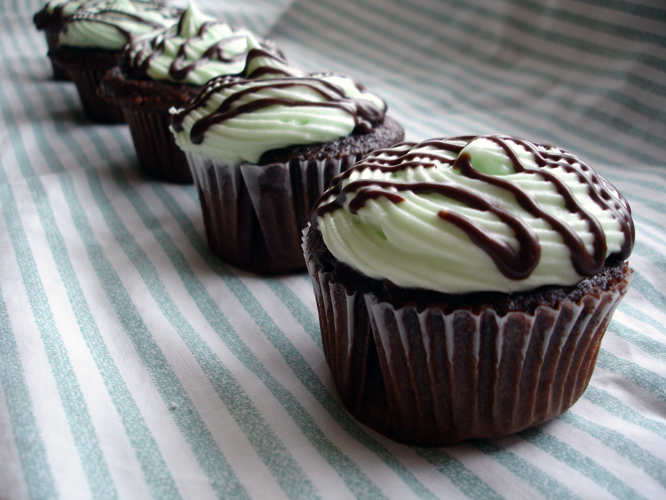 As a child, my favorite flavor of ice cream was mint chocolate chip – I believe Starlight Mint was it's name.  Those small morsels of chocolate in the creaming mint ice cream made for a tiny celebration in my mouth.  These two flavors have always been a favorite combination to me, so when I saw this recipe from Your Cup of Cake, I knew I wouldn't be happy till I made them.
These little beauties were the perfect mixture of minty goodness and fudgey chocolate.  Complete with a mint fudge filling and mint cream cheese frosting, these are sure to please.  If you are a mint and chocolate lover, you simply must give these simple cupcakes a try.
Mint Chocolate Cupcakes
INGREDIENTS
CUPCAKES
1 c sour cream
1/2 c oil
1 t vanilla extract
3 eggs
1/4 c water
1/2 c milk
1 Devil's Food Cake Mix
FILLING
1/3 c semi-sweet chocolate chips
2 T heavy cream
1 t peppermint extract
1/4 c powdered sugar
FROSTING
8 oz. cream cheese
1/2 c butter
3-4 c powdered sugar
1 T heavy cream or milk
1 t peppermint extract
green food coloring
DIRECTIONS
Preheat the over to 350°. Line two muffin tins with cupcake wrappers.
Mix together sour cream, oil, vaniila, eggs, water, milk, and cake mix. Beat on medium speed for two minutes. Fill liner ¾ full with batter and bake for 14-18 minutes.
Melt chocolate chips and heavy cream. Combine until smooth. Mix in peppermint extract and powdered sugar. When cupcakes come out of the oven, use a squeeze bottle or spoon to put filling in cupcakes. Allow cupcakes to cool completely.
Beat cream cheese and butter until fluffy. Add the peppermint extract. Beat in powered sugar one cup at a time. Add milk to reach desired consistency. Mix in food coloring. Pipe onto cooled cupcakes. Drizzles extra chocolate mint filling on tops if desired.