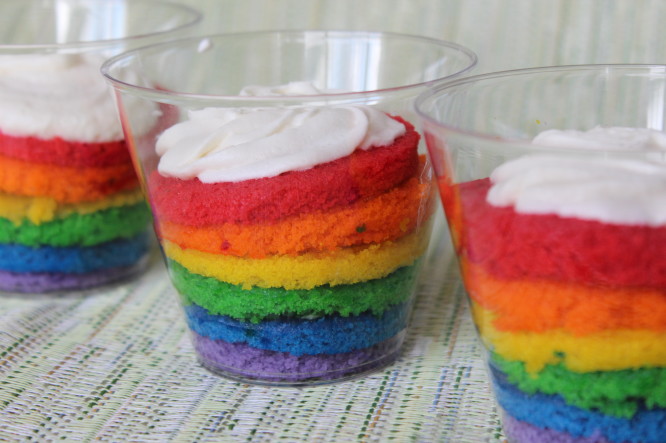 With spring around the corner and St. Patty's Day fast approaching, I've been eyeing bright rainbow cakes all over the web.   I made 40 of these cuties for a church event last week.  These individual rainbow cupcakes added so much color to the evening, and they were delicious.  This white cake recipe is scrumptious when combined with a lemony Swiss meringue buttercream.  Served in clear plastic cups, the individual servings were perfect for a buffet table and would work at any party or gathering.  So cute, you must give these a try!
Rainbow Cupcakes
INGREDIENTS
CAKE
1 c butter
2 1/3 c sugar
5 egg whites, room temperature
2 t vanilla
3 c all-purpose flour
4 t baking powder
1/2 t salt
1 1/2 c whole milk
red, orange, yellow, green, and blue gel or paste food coloring
10 clear plastic cups
LEMON SWISS MERINGUE BUTTERCREAM
9 egg whites
1 1/3 c sugar
1 c butter
1 t lemon extract
DIRECTIONS
Preheat oven to 350F degrees. With parchment paper, line how ever many 9×13″ pans you have. I have three and just reused them.
Sift together the flour, baking powder and salt. Set aside.
Cream the sugar and butter, then add the egg whites and add them a little at a time. Add the vanilla and mix until fully incorporated. Then, alternating between wet and dry, add the milk and flour mixture in two parts.
Divide the batter amongst 6 bowls (It's about 1 c each), and then whisk a fair amount of the appropriate food color into each bowl. Keep in mind that the color of the unbaked batter will be the color of the baked batter. Pour into the pans – the batter will spread to be quite thin. Bake for 10 minutes each.
When you remove them from the oven, let them rest on the cooling rack, in the pan, for ten minutes. Then flip, cover, and stash them in the fridge to cool quickly.
To make the Lemon Swiss Meringue Buttercream, cook the egg whites and sugar in a small saucepan over medium heat, whisking constantly, until the sugar is completely dissolved (test by rubbing some between your fingers. If it's completely smooth, it's done). Pour into another bowl (a stand mixer is preferable) and whip on high speed until room temp. Then, on a medium-slow speed, add the butter, waiting until each piece is completely incorporated before adding the next. After all the butter has been added, turn the mixer back to high speed and whip until it has come together, about five minutes. Add the extract, beat briefly and then use.
Using various sizes of cups or circle cookie cutters, cut 10 circles from each color of baked cake. Use the smaller circle for the bottom purple layer and use gradually larger circles for the layers on top. Place purple circle in the bottom of a plastic cup, and put a dollop of buttercream on top. Repeat with other layers. Pipe frosting on top layer.